BNR 525 and 600 Upgraded Turbochargers for 2015+ EcoBoost Mustangs
$1,699.00 – $1,950.00
-
EMS & PD NOTES: The BNR 600 is hands down the highest flowing bolt on turbo for the Ecoboost mustang, and is going to be a great option for anyone that's looking for a turbo upgrade. The BNR 500 is going to go head to head with the current king of drop-in's the NX2.
EMS was sent these turbos by BNR & PD Tuning to install & Dyno with Ryan Martin at PD Tuning prior to release. We tested both the 525 and the 600 on one of EMS's customer's named Shawn Glass who was previously tuned on an NX2 by Ryan. On Shawn's car we didn't have as much wastegate so we were only able to get around 35ish psi and that boost fell off to 32psi in top end, but we still managed to get 574/541 out of the BNR600. With the smaller BNR500 we ended up at 505whp/530wtq. The smaller BNR peaked at 33psi and fell to 26psi in top end but with a few wastegate changes and some more boost i feel like the smaller BNR has another 20 or so hp left in it.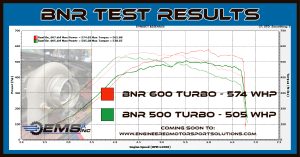 BOTH THE BNR 525 & THE 600 WILL REQUIRE A SMALL AMOUNT OF GRINDING ON THE BLOCK CASTING TO FIT THE MASSIVE COMPRESSOR HOUSING. THIS CAN BE DONE AT HOME AND IS NOT HARD TO DO. 
The turbos will come with oil/coolant lines. They will also reuse your current downpipe/hotside intercooler piping. You will need to source your own coupler to mate with your intake. The inlet on the BNR turbos is 3.5″. 
Additional information
| | |
| --- | --- |
| Weight | 320 oz |
| Dimensions | 12 × 12 × 12 in |
| BNR | 525, 600 |
| EMS No Grind BNR Install Kit | Do Not Add Spacer Kit, Add Spacer Kit |